In 2012, the NCR-SARE Administrative Council created the NCR-SARE Hero Recognition to highlight, recognize, and pay tribute to those who have made significant contributions to NCR-SARE and/or National SARE. NCR-SARE is pleased to announce that Donn Teske and Fred Madison have been named the 2020 NCR-SARE Heroes.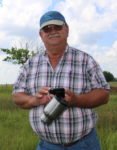 Donn Teske
Donn Teske's fifth-generation farm was homesteaded by his family in Kansas after the Civil War. One hundred fifty years later, Teske's 900-acre farm, a grain and cow-calf operation, inspires his concern for the environment and motivates Teske's heavy involvement with organizations and policy development that focus on sustainable agriculture.
In addition to full-time farming in the 1990s, Teske worked for the Kansas Rural Center and the Kansas State University Agricultural Economics Department as a farm financial analyst. He is currently president of Kansas Farmers Union, and was the National Farmers Union Vice President from 2014-2018.
As a sustainable agriculture advocate, Teske has served as an advisory committee member for the Kansas Center for Sustainable Agriculture and Alternative Crops, was a member of the Farmer & Rancher Advisory Board to the EPA, and served as a board member for several organizations including the Farmer Veteran Coalition, Kansas Rural Center, Midwest Agency Insurance, Ogallala Commons, and the Kansas Graziers Association. Teske has also appeared in three documentary films, "Go to College, or Take over the Family Farm?" (2011), "What's the Matter with Kansas?" (2009), and "The Disrupted," (2020).
His service as a farmer representative to NCR-SARE's Administrative Council was 2011-2018, and he continues to work with SARE through Kansas SARE's state advisory committee. Across his work with SARE, Teske provides a significant and experienced voice for farmers who champion sustainable practices in conventional corn/soybean row crop rotations.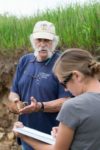 Fred Madison (Presented Posthumously)
Affectionately known as "Dr. Dirt," Fred Madison spent more than 50 years getting his hands dirty working to protect, build, and teach others about soil and water natural resources in the Midwest.
Madison received a bachelor's degree in geology from the University of Wisconsin, where he also received his master's and doctoral degrees in soil science in 1963 and 1972. During that time, he was the director of the Peace Corps' Midwest Regional Recruiting Office. Madison served as a legislative assistant to Wisconsin Senator Gaylord Nelson, where he assisted with the National Wild and Scenic Rivers Act. This 1968 law helps protect more than 12,000 miles of river in 40 states today. He was appointed by President Lyndon Johnson to the Upper Great Lakes Regional Commission and was reappointed by President Richard Nixon. Madison returned to the University of Wisconsin's Department of Soil Science in 1978 when he began a split position as an assistant professor of soil science and an Extension specialist with the Wisconsin Geological and Natural History Survey. He received tenure in 1984 and was promoted to full professor in 1991. Among other activities at the University of Wisconsin, he taught, developed courses, and coached the UW–Madison soil judging team.
Passionate about sustainable agriculture and conservation, Madison served as chair of the Lower Wisconsin State Riverway Board for a number until 2018. He received the Wisconsin Idea Award in Natural Resource Policy from Extension in 1995 for his contributions to natural resource policy and his accomplishments as an educator. He received the Wisconsin Idea Award in Natural Resource Policy from Extension in 1995 for his contributions to natural resource policy and his achievements as an educator.
Madison commenced his service to SARE in 1995 as a State Geological Survey representative for the Administrative Council and remained in that position until 2010; he chaired the NCR-SARE Administrative Council chair in 1997. From 2003-2006, he also served as a SARE State Coordinator in Wisconsin. He was a champion for producers and worked to keep NCR-SARE focused on serving farmers.
Madison passed away on June 3, 2019, at the age of 82. This recognition was presented posthumously to his wife, Tracy.
Read tributes and learn more about the NCR-SARE Heroes online.