In 2012, the NCR-SARE Administrative Council created the NCR-SARE Hero Recognition to highlight, recognize, and pay tribute to those who have made significant contributions to NCR-SARE and/or National SARE. NCR-SARE is pleased to announce that Paula Ford and Jim and Rebecca Goodman have been named the 2021 NCR-SARE Heroes.
Paula Ford (presented posthumously)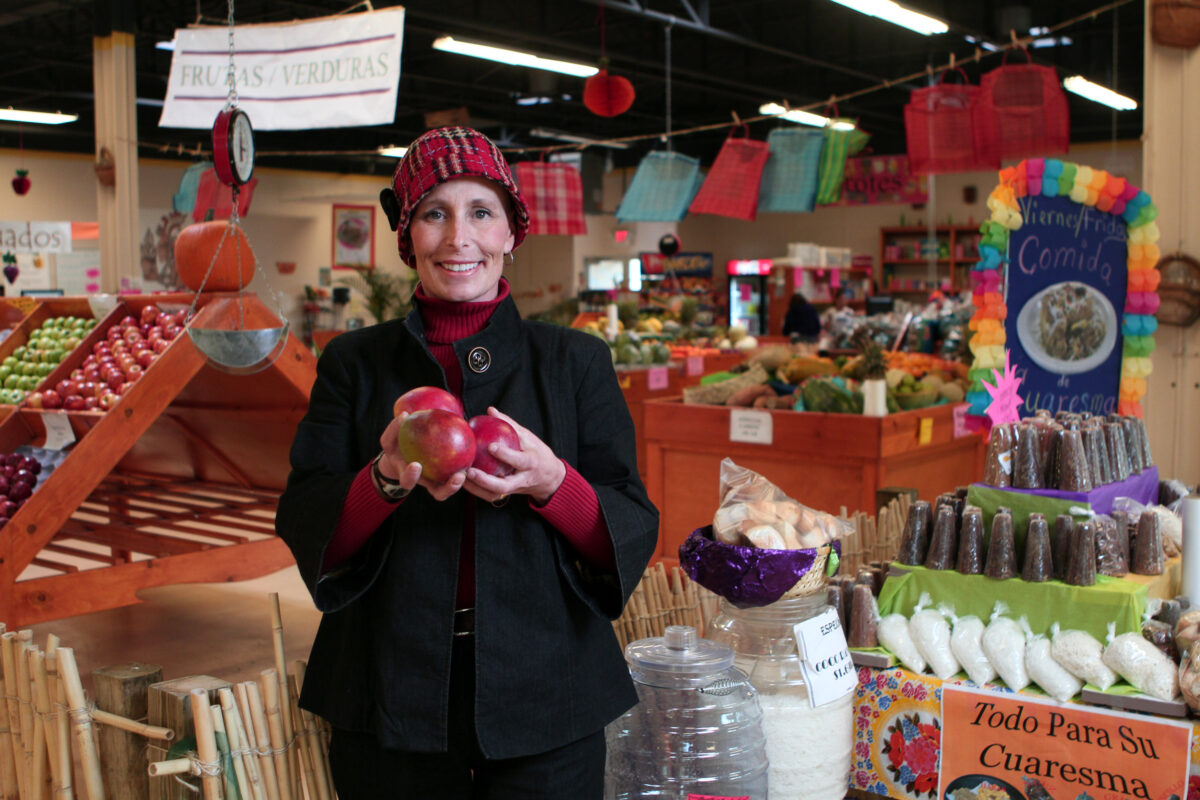 Dr. Paula Bridgid Ford was raised in the suburbs of Chicago until her family moved to North Carolina when she was a teenager. She graduated with honors from Clemson University in 1987 with a B.S. degree in Agronomy and completed her M.S. in Soil Science at The University of Georgia in 1989, where she also began her career with SARE.
Ford supported sustainable agriculture and SARE for more than 20 years. From 1991-1997, she served as the Program Coordinator for the Southern Region SARE program where she helped conceptualize and initiate Southern SARE's 2010 System Research Methods Handbook. She then moved on to a new role as the North Central Region SARE Professional Development Program Coordinator at Kansas State University for 11 years (1999-2009), where she worked to improve SARE's outreach capacity by reimagining and strengthening the SARE State Coordinator program. An expert at evaluation and measuring impacts, she provided the vision and leadership to improve evaluation and outcome-based programming planning for NCR-SARE.
After moving on from SARE and receiving her doctorate in human nutrition from Kansas State University in 2009, Ford became an assistant professor at the College of Health Sciences, University of Texas at El Paso (UTEP) in 2009. During her two-year tenure at UTEP, she was the Lead Investigator or Co-Lead for almost $2 million in competitive grants. In 2011, she received the Outstanding Research and Performance Award from UTEP's College of Health Sciences. The College of Health Sciences established a scholarship for MPH students at UTEP in her name.
To honor Ford's contributions to NCR-SARE, the Administrative Council created the 'Paula Ford Professional Development Program Proposal of the Year award. Each year, one Professional Development Program-funded project in the North Central Region is given this special designation. The region selects the project that best exemplifies Dr. Ford's contributions and passion for evaluation, professional development, and/or science-based research.
Ford passed away on October 8, 2011. This recognition was presented posthumously to her husband, Dr. Bill Hargrove.
Rebecca and Jim Goodman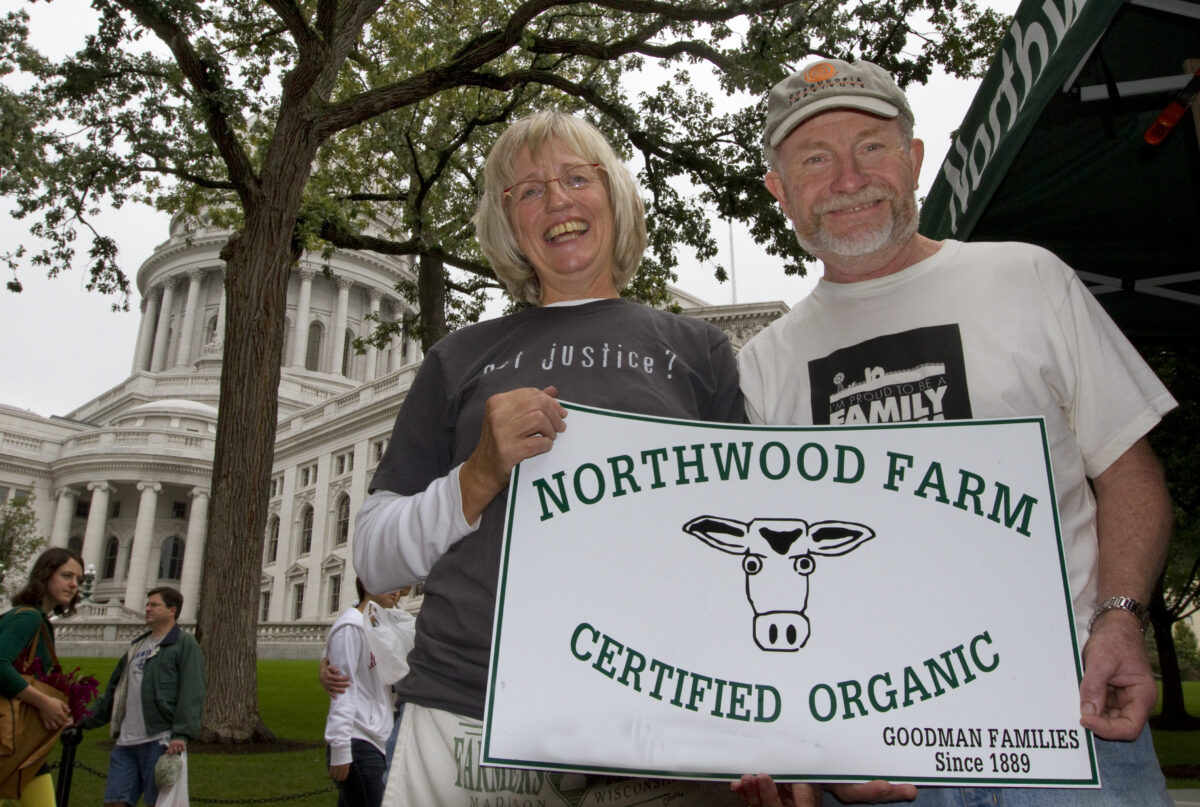 Rebecca and Jim Goodman were brought up in the region's farming community. Jim grew up on a third-generation family farm, which has been in his family since the 1840s when they relocated from Ireland to Wisconsin during the Potato Famine. Rebecca grew up on a small grain farm in southwest Minnesota. Although Jim took farming breaks briefly to pursue a B.S. in Animal Science from Wisconsin-Platteville and an M.S. in Reproductive Physiology from South Dakota State University, Jim and Rebecca still live on the farm where Jim was born and raised.
In 1979, the couple took over Goodman's family farm in southwest Wisconsin with Jim's brother, Francis. Over the next 20 years, they raised two children and ran their farm conventionally. But in the mid-1990s, they felt compelled to change the trajectory of their farm for financial reasons, environmental concerns, and a desire to improve the quality of their lives as well as those around them. They became certified organic in 1999, and from then on, they ran a 45-cow organic dairy and direct market beef farm. They sold their milk to Cedar Grove Dairy and marketed their beef at the Dane County farmers market in Madison, Wisconsin, which is known for being the largest producer-only farmers market in the country. Jim and Rebecca retired from farming in 2019, but they didn't stop working for farmers.
As farmer advocates and activists, both Jim and Rebecca have served for organizations including Midwest Environmental Advocates, Center for Food Safety, Organic Consumers Association, and Family Farm Defenders. They are both members of the National Family Farm Coalition, where Jim currently serves as president. Rebecca served on the Dane County Farmers Market Board of Directors and served as board president. Jim is a writer and a past Institute for Agriculture and Trade Policy Food and Society Fellow. Since retiring from farming, the Goodmans continue to share their story and present educational workshops on organic farming and direct marketing.
Active with SARE for more than 20 years, Jim Goodman served two terms on the NCR-SARE Administrative Council from 1999-2002 and from 2010-2014. He was a member of NCR-SARE's Farmer Rancher Grant review committee from 2010-2015 and chaired the Administrative Council in 2015. The Goodmans also received a SARE grant in 1996 titled, "Northwood Farm Sustainably Raised Beef." Jim added, "Had it not been for Rebecca doing chores for me I probably would have missed a few of those SARE adventures."
Learn More about NCR-SARE Heroes
Read tributes and learn more about the NCR-SARE Heroes online.