Integrated Weed Management - One Year's Seeding
Weed biology and ecology can help every farmer become a better weed manager. This guide is the result of a series of winter meetings attended by Michigan farmers, MSU Extension agents and research scientists. It brings together field-tested experience from successful growers and Extension agents and insights distilled from more than 50 years of weed science research.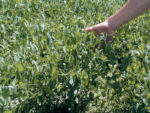 Adapting Crop Share Agreements for Sustainable and Organic Agriculture
When the farming system deviates from a conventional corn-soybean rotation, the usual division of costs and returns in a 50-50 crop share lease may no longer fairly reflect the inputs of each party. This sheet demonstrates how crop share agreements can be adapted for sustainable and organic agriculture.