Video: Managing Cucurbit Bacterial Wilt with Row Covers & Perimeter Trap Cropping
In this video-recorded webinar, SARE grantee Mark Gleason shares information on how to manage cucurbit bacterial wilt sustainably using row covers and perimeter trap cropping.

Partnership Grant Fact Sheet
The Partnership Grant program is intended to foster cooperation between agriculture professionals and small groups of farmers and ranchers to catalyze on-farm research, demonstration, and education activities related to sustainable agriculture.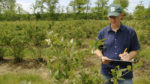 Enhancing Crop Yield Through Wild Pollinators
In this journal article, SARE-supported research provides a general framework and examples of approaches for enhancing pollinator richness and abundance, quantity and quality of pollen on stigmas, crop yield, and farmers' profit, including some benefits detected only through long-term monitoring. The authors argue for integrating the promotion of wild-insect species richness with single-species management to benefit farmers and society.