This Youth Educator Topic Room is SARE's one-stop shop for free sustainable agriculture educational resources—the results of 25 years of SARE-funded research—for youth and youth educators.
Also, NCR-SARE's Youth Educator grants provide opportunities for youth to learn about sustainable agriculture (farming and ranching that is ecologically sound, profitable, and socially responsible). Youth Educator grants support projects by youth educators in the North Central region that encourage youth to try sustainable practices and explore sustainable agriculture as a viable career option.
Youth Educator Resources
The programs, curricula, and learning modules listed below can be used for educational programming and planning for youth.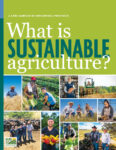 What is Sustainable Agriculture?
This award-winning report provides a sampler of best practices in sustainable agriculture—from marketing and community vitality to cover crops and grazing—as well as eight profiles of producers, educators and researchers who have successfully implemented them.