This Youth Educator Topic Room is SARE's one-stop shop for free sustainable agriculture educational resources—the results of 25 years of SARE-funded research—for youth and youth educators.
Also, NCR-SARE's Youth Educator grants provide opportunities for youth to learn about sustainable agriculture (farming and ranching that is ecologically sound, profitable, and socially responsible). Youth Educator grants support projects by youth educators in the North Central region that encourage youth to try sustainable practices and explore sustainable agriculture as a viable career option.
Youth Educator Resources
The programs, curricula, and learning modules listed below can be used for educational programming and planning for youth.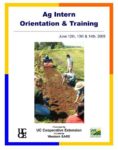 On-Farm Internship Training Binder
The Placer Ag Futures Project was conceived as a response to critical issues affecting local agricultural sustainability. This project was intended to help grow a new crop of agricultural professionals that are trained in sustainable agricultural practices.
One part of the Ag Futures Project was the on-farm internship training. The summer internship program consisted of an intensive three-day pre-internship training, a training binder and a nine-week rotating internship, working with producers of different commodities. The internship started with a three-day training program developed and delivered by producers and University of California Cooperative Extension Farm Advisors. The training included classroom sessions on the science of production and husbandry practices, as well as hands-on practical training at several of the participating operations. To augment the training, each intern received a binder of materials related to production and husbandry practices for the relevant crops and species, farm safety and other information.