NCR-SARE recognizes that youth programs are a way to introduce new and exciting farming and ranching options to youth, parents, and community members.
This Youth Educator Topic Room is SARE's one-stop shop for free sustainable agriculture educational resources—the results of 25 years of SARE-funded research—for youth and youth educators. 
Also, NCR-SARE's Youth Educator grants provide opportunities for youth to learn about sustainable agriculture (farming and ranching that is ecologically sound, profitable, and socially responsible). Youth Educator grants support projects by youth educators in the North Central region that encourage youth to try sustainable practices and explore sustainable agriculture as a viable career option.
Youth Educator Resources
The programs, curricula, and learning modules listed below can be used for educational programming and planning for youth.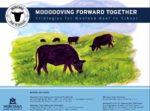 Moooooving Forward Together
This case study is a total of 39 graphically designed pages and includes an overview of beef to school in Montana; school, processor, and producer needs; an infographic of the beef lifecycle; an infographic of common beef to school partnerships; demographics of Montana schools, producers, and processors; challenges and opportunities for beef to school in Montana; six comprehensive case studies; vocabulary; references and resources; and cuts of beef infographic.