NCR-SARE's Farmers Forums are events that give farmers, ranchers, and others the chance to share information about sustainable agriculture practices with a national audience through presentations at events. NCR-SARE produces videos of these talks and provides written summaries of the featured projects in our annual Farmers Forum Highlight.
Most Recent Issue of the Farmers Forum Highlight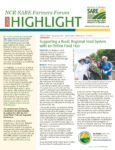 This highlight is a summary of reports and presentations from the NCR-SARE Farmers Forums held at the 2020 NPSAS Food and Farming Conference and the 2019 Women in Sustainable Ag Conference. These Farmers Forums featured speakers who received awards from various NCR-SARE grant programs.
Online Version (Free): Download File
2020 NPSAS Food and Farming Conference Farmers Forum Videos
2019 Women in Sustainable Ag Conference Farmers Forum Videos
Farmers Forum Archive
2019
Written Highlight
Farmers Forum Highlight 2019.pdf 33.01 MB
Videos
Farmers Forum Presentations at the 2019 Michigan Family Farms Conference (YouTube Playlist)
Farmers Forum Presentations from the 2019 Nebraska Sustainable Agriculture Society Conference (YouTube Playlist)
2018
Written Highlight
Farmers Forum Highlight 2018.pdf 1.22 MB
Videos
Farmers Forum Presentations from the 2018 Indiana Small Farm Conference (YouTube Playlist)
Farmers Forum Presentations at the 2018 Wisconsin Fruit and Vegetable Growers Conference (YouTube playlist) 
2017
Written Highlight
Farmer's Forum Highlight 2017 Final.pdf 22.98 MB
Videos
Farmers Forum Presentations from 2017 Illinois Specialty Crops, Agritourism and Organic Conference (YouTube Playlist)
2016
Written Highlight
Farmers Forum Highlight 2016.pdf 1.87 MB
Videos
Farmers Forum Presentations at the Kansas Rural Center Conference 2016 (YouTube Playlist)
Farmers Forum Presentations at the 2016 Practical Farmers of Iowa Conference (YouTube Playlist)
2015
Written Highlight
Farmers Forum Highlight 2015.pdf 2.81 MB
Videos
Farmers Forum Presentations from the 2015 Northern Plains Sustainable Agriculture Society Conference (YouTube Playlist)
2014
Written Highlight
Farmers Forum Highlight 2014.pdf 3.81 MB
Videos
Farmers Forum and Seminar Presentations from the 2014 OEFFA Conference (YouTube Playlist)
2012
Written Highlight
Farmers Forum Highlight 2012.pdf 4.13 MB
Videos
Farmers Forum presentations and seminar presentations from the 2012 National Small Farm Trade Show and Conference (YouTube Playlist)
2011
Written Highlight
Farmers Forum Highlight 2011.pdf 32.14 MB
No videos were recorded by NCR-SARE at this event in 2011
2010
Written Highlight
Farmers Forum Highlight 2010.pdf 35.72 MB
No videos were recorded by NCR-SAREat this event in 2010
2009
Written Highlight
Farmers Forum Highlight 2009.pdf 1.33 MB
No videos were recorded by NCR-SARE at this event in 2009