Short profiles of SARE-funded research and education projects in action.
Showing 1-20 of 152 results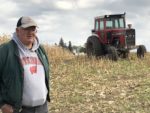 Reducing Runoff with Prairie Strips
Dan Stoffel worked with Sand County Foundation to plant prairie strips on his farm in southeast Wisconsin. With support from a SARE grant, Sand County Foundation was able to work with several producers to implement this practice which helps reduce runoff and attract pollinators.