Short profiles of SARE-funded research and education projects in action.
Showing 1-20 of 169 results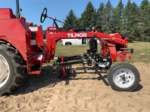 Physical Weed Control Strategies for Midwest Vegetable Growers
A group of farmers and researchers has been working to generate useful, farm-tested, and detailed observations on the best methods and tools for managing in-row weeds. This image is a Tilmor cultivating tractor with finger-weeders belly mounted.