Fact sheets, brochures, posters, and other resources that explain and promote the North Central Region SARE program and sustainable agriculture.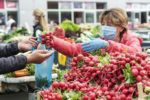 COVID-19 Sales and Marketing Resources
More farmers/ranchers are pursuing online sales to market their products so they can comply with physical distancing requirements associated with COVID-19. On this page, NCR-SARE will share resources for online sales and marketing for producers adjusting to new realities associated with COVID-19.