Field Notes is NCR-SARE's newsletter. In Field Notes, NCR-SARE shares announcements, stories about grantees, and news about the program. It is mailed and emailed to subscribers upon request.
Most Recent Issue of the Field Notes Newsletter
Field Notes Summer 2020
Online Version (Free): Download File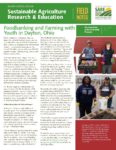 In the current issue of Field Notes, read about a nonprofit in Ohio with youth on food security issues, a Minnesota farmer growing heritage grains for craft beer, a Purdue graduate student's online food literacy curriculum for high schoolers, a land-based learning project in Michigan's U.P. using a collaborative approach to address local farm issues, the 2020 NCR-SARE Heroes, results from the 2019-2020 cover crops survey, and more!
Featured stories from Field Notes Summer 2020
Field Notes Newsletter Archive
Curious about a particular topic? Search all SARE products.