The educational materials listed on this page are about Bees.
Apiculture is the management of bees for the purpose of bee breeding, insect pollination and honey production. Honey bees, among other native and non-native bees, are important to agriculture because of their role in crop pollination. Bee pollinated crops will more readily flower and fruit. Aside from bees, there is an entire list of pollinators that aid in serving this important ecological function. One threat to bees are bee diseases. Honey bee diseases can overcome a hive when a pest is introduced, therefore bee pest control is critical. Bee parasites are another threat to bee health, so it is important to find honey bee information that is geared toward your region, climate and other environmental issues. To combat diseases and boost production, some producers have honey bee breeding enterprises to maintain healthy populations. Finally, one of the most important ways to help increase bee production is to grow plants for pollinators. Key practices include pollination, beekeeping, pollinator health, pollinator habitat, honey, cultural control, integrated pest management.
The Cover Crops Topic Room provides information on how to improve crop diversity in order to attract pollinators. Cover Cropping for Pollinators and Beneficial Insects is a helpful bulletin to guide practices that utilize cover crops for multiple beneficial uses, including pollination. SARE's book How to Manage the Blue Orchard Bee is a resource that provides practical information on best practices for blue orchard bee management to increase orchard production. Managing Alternative Pollinators explains how to manage your farm or ranch to encourage pollinators other than the honey bee.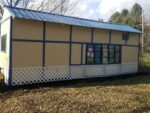 LAAZY Hives: Ergonomic Hive Alternative
Beekeepers in Ohio designed and built a LAAZY Hive system for beekeeping that allows them to access their hives while seated.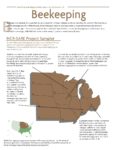 Beekeeping
Beekeepers are stewards of an essential resource; the plants that bees pollinate constitute more than 30 percent of the food we eat and the beverages we drink. While the role of alternative pollinators is vital, bees continue to provide an important service to agriculture in our region. From research projects about Colony Collapse Disorder, to educational programs around beekeeping, to innovative hive designs, NCR-SARE has funded a wide variety of grants to help beekeepers.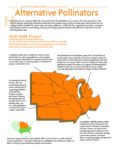 Alternative Pollinators
Honeybee losses compounded with rising rental rates for pollination are a concern for many producers. Not only are growers looking for alternative pollinators to improve crop security, but they also want to learn how to manage on-farm habitats for native bees and other pollinators. NCR-SARE has supported researchers, educators, and producers who are researching, rearing, and managing species that provide pollination alternatives to the declining honey bee.