The educational materials listed on this page are about Bioenergy and Biofuels.
A biofuel is produced through biological processes, such as agriculture and anaerobic digestion, rather than a fuel produced by geological processes, such as coal and petroleum, from prehistoric biological matter. Biomass, unlike other renewable energy, can be converted into liquid biofuels to help meet transportation fuel needs. You may have heard this type of fuel referred to as biogas or bioenergy. The two most common types of biofuels in use today are ethanol, sometimes called e85 gas, and biodiesel. Ethanol fuel, or e85 fuel, is a product of agriculture and comes from corn. Biomass energy can also be derived indirectly from agricultural, commercial, domestic, or industrial wastes to create biomass fuel. Key practices include agronomic crops as byproduct utilization, bioenergy and biofuels, anaerobic digestion, biodiesel, biofuel feedstocks, nutrient cycling, municipal wastes, renewable energy.
The SARE bulletin Clean Energy Farming: Cutting Costs, Improving Efficiencies, Harnessing Renewables shows farmers ways to utilize clean energy practices on their operations, whether large or small. This will help farmers learn ways to implement farming practices that both save energy and protect natural resources, and produce and use renewable fuels. SARE's book, Building a Sustainable Business, guides producers who want to build a sustainable and profitable business plan to include renewable energy and biofuel options. The Farm Energy Topic Room provides a wealth of information on clean energy topics, including biodiesel, farm energy audits, solar and wind energy, and more. 
Research Team Studies Biofuel Cropping System to Increase Crop Profitability
The North Central region has over 11 million acres of claypan and claypan-like soil areas that are disproportionate sources of nonpoint pollution and soil quality degradation when used for grain production. Hank Stelzer wanted to determine whether a short-rotation willow biofuel cropping system on claypan soil could improve crop profitability, but establishing a willow crop […]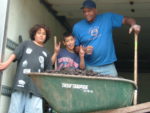 Agricultural Educators and Clean Energy in the North Central Region
This feature is a summary of the results of the 2007 NCR-SARE Professional Development Program projects that were awarded grants for the speical call on bioenergy and energy-efficiency.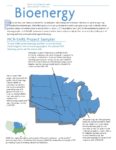 Bioenergy
Politicians, farmers, and investors across the U.S. are enthusiastic about the potential economic benefits and use of energy crops to revitalize the rural landscape. NCR-SARE hopes to more clearly articulate the need to use a systems approach to identify critical questions, develop innovative solutions, and solve both on-site and off-site problems that might limit the sustainable development of bioenergy production. NCR-SARE has invested in research and education projects to help achieve the sustainability of all aspects of bioenergy and those communities that support bioenergy.