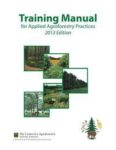 Training Manual for Applied Agroforestry Practices
The Training Manual for Applied Agroforestry Practices helps to explain agroforestry practices and their applications. It is designed for natural resources professionals and landowners, and includes worksheets and exercises for use as an educational tool. Additionally, the manual is designed to assist in the decision process so that, when established or managed, the agroforestry practice is most effective at achieving the desired objectives.
Woodchip Bioreactors for Nitrate in Agricultural Drainage
Woodchip bioreactors, installed at the edge of agricultural fields, can remove 15 to 60 percent of the nitrate in tile-drained water annually. This innovative approach for protecting the water quality in Midwest streams and rivers is described in a new fact sheet available from Iowa State University.