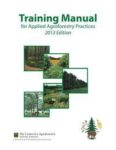 Training Manual for Applied Agroforestry Practices
The Training Manual for Applied Agroforestry Practices helps to explain agroforestry practices and their applications. It is designed for natural resources professionals and landowners, and includes worksheets and exercises for use as an educational tool. Additionally, the manual is designed to assist in the decision process so that, when established or managed, the agroforestry practice is most effective at achieving the desired objectives.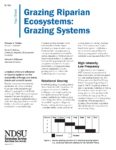 Maintenance of Natural Sustainable Riparian Communities Fact Sheets Series
A graduate student from North Dakota State University created these five extension fact sheets after monitoring and reporting on the riparian ecosystem associated with the Middle Sheyenne River, a perennial stream in eastern North Dakota.