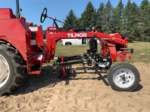 Physical Weed Control Strategies for Midwest Vegetable Growers
A group of farmers and researchers has been working to generate useful, farm-tested, and detailed observations on the best methods and tools for managing in-row weeds. This image is a Tilmor cultivating tractor with finger-weeders belly mounted.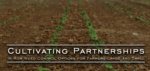 In-Row Mechanical Weed Control Options for Farmers Large and Small
With support from SARE, a team from Michigan State University created videos demonstrating three in-row weed control tools in the field: the torsion weeder, the flex tine cultivator, and the finger weeder.