Fact sheets, brochures, posters, and other resources that explain and promote the North Central Region SARE program and sustainable agriculture.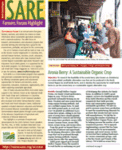 NCR-SARE Farmers Forum Highlights
NCR-SARE's Farmers Forums are events that give farmers, ranchers, and others the chance to share information about sustainable agriculture practices with a national audience through presentations at events. NCR-SARE produces videos of these talks and provides written summaries of the featured projects in our annual Farmers Forum Highlight.