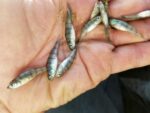 Finding Success with Yellow Perch in an Aquaculture System
This document includes a summary of the aquaculture research projects that Bill West has participated in, as well as updates for each of those projects, written by West himself.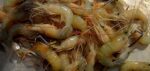 Producer Raises Prawns for Ohio Locavores
With support from SARE, Don Mahoney is making freshwater prawn production more sustainable in Ohio.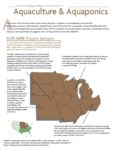 Aquaculture and Aquaponics
Aquaculture is the cultivation of fish, aquatic animals, and plants. Aquaponics is a bio-integrated system that links recirculating aquaculture with hydroponic vegetable, flower, and/or herb production. In aquaponics, nutrient-rich effluent from fish tanks is used to fertigate hydroponic production beds. SARE has supported advances by producers, researchers, and educators that are helping to advance aquaculture and aquaponics into working models of sustainable production.