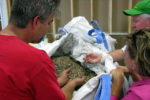 Video: Cover Crop SmartMix Calculator
SARE grantees and brothers, Keith and Brian Berns, have a cover-crop seed business, and have created a SmartMix Calculator, an online spreadsheet that calculates seed quantities and cost, carbon-to-nitrogen ratio (C:N), nitrogen-fixation potential and other factors for mixes of nearly 40 cover-crop species, including legumes, brassicas, grasses and broadleaf crops.
SARE Cover Crops Webinars
As part of the Missouri SARE State Program, Debi Kelly hosted two webinars on Cover Crops in fall 2012. Presenters included Charles Ellis, a Natural Resource Engineer with the Lincoln County University of Missouri Extension Center, and Rich Hoormann, an Agronomy Specialist with Montgomery County University of Missouri Extension Center.