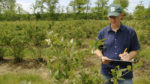 Enhancing Crop Yield Through Wild Pollinators
In this journal article, SARE-supported research provides a general framework and examples of approaches for enhancing pollinator richness and abundance, quantity and quality of pollen on stigmas, crop yield, and farmers' profit, including some benefits detected only through long-term monitoring. The authors argue for integrating the promotion of wild-insect species richness with single-species management to benefit farmers and society.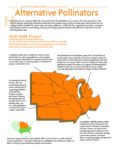 Alternative Pollinators
Honeybee losses compounded with rising rental rates for pollination are a concern for many producers. Not only are growers looking for alternative pollinators to improve crop security, but they also want to learn how to manage on-farm habitats for native bees and other pollinators. NCR-SARE has supported researchers, educators, and producers who are researching, rearing, and managing species that provide pollination alternatives to the declining honey bee.


Spring Wild Bees of Wisconsin Online Identification Guide
The Spring Wild Bees of Wisconsin online guide is designed to help users identify wild bees commonly found in Wisconsin in the spring and early summer by their color, shape, size, and habitat. Users can learn to distinguish among different types of bees and learn about the important roles they play in nature and agriculture.