The educational materials listed on this page are about High Tunnels or Hoop Houses.
A high tunnel or hoop house is a covered structure used to achieve season extension, or commercial fruit and vegetable production outside the usual growing season. Common vegetables to grow in high tunnels include tomatoes, peppers, leafy greens and lettuces, strawberries and brambles. Getting started with commercial hoop house farming requires a fairly modest investment in a structure, along with knowledge of high tunnel vegetable production, such as management of nutrients, pests, irrigation and temperature. Visit SARE's High Tunnels and Other Season Extension Techniques topic room for detailed information on hoop house plans and hoop house construction, as well as other management topics. You can also find information about sustainable commercial greenhouse production in the High Tunnels and Other Season Extension Techniques topic room.
If you are interested in season extension through high tunnel farming or gardening, the resources on this page can help. Dig deeper for information on how to build a high tunnel or hoop house, how to manage vegetable and fruit production in one, and ideas for marketing.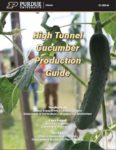 High Tunnel Cucumber Production Guide
This cucumber production guide provides resources and recommendations tailored to the distinctive growing environment of high tunnels.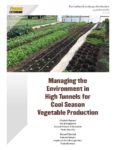 Managing the Environment in High Tunnels for Cool Season Vegetable Production
Light, temperature, and relative humidity influence how crops grow and develop. With support from SARE, Purdue University Extension developed this publication, which introduces important factors to consider during design, operation, and daily management of high tunnels, and explains plant responses to the environment.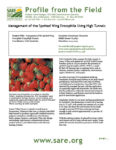 Management of the Spotted Wing Drosophila Using High Tunnels
Scenic Valley Farms is a family owned farm in Rosemount, Minnesota that uses 15 climate controlled high tunnels to produce organically certified tomatoes, peppers, cucumbers, blackberries, strawberries, herbs, ginger, turmeric, and garlic. They also design and manage high tunnels, computerized climate control systems, and subterranean solar thermal heating systems. Erik Gundacker helps manage the high […]