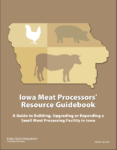 Iowa Meat Processors' Resource Guidebook
A guide to building, upgrading or expanding a small meat processing facility in Iowa.
Scaling Up
Perkins' Good Earth Farm is a small family farm that operates on 19 acres. They currently grow only one-quarter acre of organic garlic but hope to increase their productivity in this area by 50 percent. Two major challenges in achieving this goal are the cost of additional labor and worker comfort during planting and harvesting. […]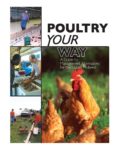 Poultry Your Way
Poultry Your Way is for anyone interested in commercially raising, processing, and marketing poultry. It is designed to help you consider alternatives, and to help you make decisions about which alternative(s) will be most compatible with your family and business goals.