The educational materials listed on this page are about Grazing Management.
Grazing management is critical to any pasture-based livestock farming system. Rotational grazing, intensive rotational grazing and management intensive grazing are key to successful and sustainable rotational grazing systems. So, what is rotational grazing? Careful grazing strategies include stocking rates of cattle, time spent on each paddock or pasture, how many times a herd revisits that same paddock or pasture throughout the year, and incorporating multi-species grazing to reduce parasite loads. Management approaches used to increase grazing uniformity, such as water sources and fencing, improve livestock grazing distribution problems. Rotational grazing cattle may also require capital expenditures. Thus, less expensive, practical solutions, like selecting cattle with desirable grazing patterns and culling cattle without, have been suggested as tools for improving managed intensive rotational grazing. This makes a rotational grazing definition difficult to refine depending on geographic location. Key practices include holistic management, grazing management, rotational grazing, livestock breeding, stocking rate, rangeland pasture management, pasture renovation, watering systems, multi-species grazing, continuous grazing.
The Rangeland Management Strategies bulletin has information for multi-species grazing and winter grazing, and it offers advice for forage management and vegetation management, as well as practices for protecting riparian areas. SARE's Small Ruminant Toolbox offers producers with small ruminant livestock enterprises practices that provide pest, weed and parasite control. Smart Water Use on your Farm or Ranch can be used to better understand the role of water in a farm system and in grazing management.
Showing 1-15 of 15 results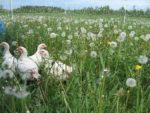 Perfecting the Day-Range Pastured-Poultry System
Raising poultry on pasture instead of in a barn or other permanent structure is an increasingly popular enterprise for hobby and small farmers across the country. This bulletin features the Day-Range system, which consists of a mobile pen that is kept inside a fenced area. The birds are free to roam within the fenced-area during the day and are put in the mobile pen at night if predators are a problem. The mobile pen is moved daily to prevent accumulation of manure and the fence is moved as necessary to provide access to fresh pasture.