The educational materials listed on this page are about Agroforestry.
What is a practical agroforestry definition? How do you define agroforestry? What is agroforestry? These are common questions from farmers seeking to diversify their operations. The definition of agroforestry contains several pieces that are integral to the success of this type of farming. Agroforestry is an alternative farming system that integrates trees and shrubs with crops or livestock. An agroforestry system can create more diverse farms, ranches and communities. Different types of agroforestry can help farmers diversify both their farm products and their business income. An example of agroforestry practices is the practice of using trees that produce an annual fruit or nut crop but can also be grown for a future timber harvest. These are just a few of the benefits of agroforestry as a farming enterprise. Key practices include agroforestry, permaculture, integrated crop and livestock systems, new enterprise development, fruit, nuts, forest management, windbreaks, alley cropping, forest farming, silvopasture.
The Agroforestry brief sheet provides information for farmers looking to diversity their products and income. SARE's book Building a Sustainable Business can aid producers in building a sustainable and profitable business plan for their new enterprise. For help with identifying funding for agroforestry ventures, Building Sustainable Farms, Ranches and Communities gives producers alternative ways to get their business up and running through innovative funding opportunities. Diversifying Cropping Systems is a bulletin that can be useful in identifying practices that enhance diversity on farms, including forest management practices.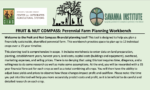 The Fruit and Nut Compass
The Fruit and Nut Compass is a farm business planning tool to help both new and experienced producers project the financial costs and returns from an enterprise focused on perennial crops.